TO WHOM IT MAY CONCERN HOME > Cruise Ship > To Whom it May Concern
Introducing cruises and optional tours from Himeji Port
Many tourist destinations can be reached from Himeji Port. In addition, it is a port with good access to the Kansai region, which has many World Heritage Sites, and the Seto Inland Sea. Many tours can be planned by entering Himeji Port. We will introduce the tour, so please consider entering Himeji Port.
Seto Inland Sea Cruise and World Heritage Site Tour
Introducing 6 cruises around the Seto Inland Sea and World Heritage Sites.
The contents of the cruise include visiting the World Heritage, Himeji Castle, Historic Monuments of Ancient Kyoto, Historic Monuments of Ancient Nara, Itsukushima Shinto Shrine, Hiroshima Peace Memorial, Sacred Sites and Pilgrimage Routes in the Kii Mountain Range, as well as visiting sightseeing spots in the Seto Inland Sea and cruising the Seto Inland Sea.
All are attractive cruises.
Optional Tours to and from the Port of Himeji
Introducing optional tours that offers various interesting experiences to and from Himeji Port.
The contents of the tours include experience of traditional crafts such as clay work and plane shaving, site tour of Japanese industry such as fishing, sake breweries, soy sauce breweries and silver mine tunnels, and visit to the original scenery of Japan such as Scarecrow Village.
All are fascinating tours.
Courses Around Himeji Port Japan Heritage Sightseeing Model
There are four Japanese Heritage sites near Himeji Port.
Japanese Heritage is recognized by the Japanese Agency for Cultural Affairs as a story that conveys the culture and traditions of Japan through the historical charm and characteristics of a region.
The four Japanese Heritage sites are as follows
・The Bantan Throughway – 73 km of Historic Ruts that trace the memory of Japan's great resource-rich nation.
・The Kitamae Ship Port and Shipowners' Village: A Different Space Spun by the Dreams of Men Who Transcended the Rough Seas.
・Banshu-Ako, the town that produced "Japan's No.1" Salt
・Japan's Oldest Pilgrimage Route with Over 1300 years of History
We introduce four half-day plans and three one-day plans of model courses to visit these Japanese heritage sites.
Each course allows visitors to experience a variety of Japanese culture and history. Himeji is home to the World Heritage Site Himeji Castle and is an area full of attractions.
Cruise Ship Acceptance Map

Pier Information for Large Cruise Ships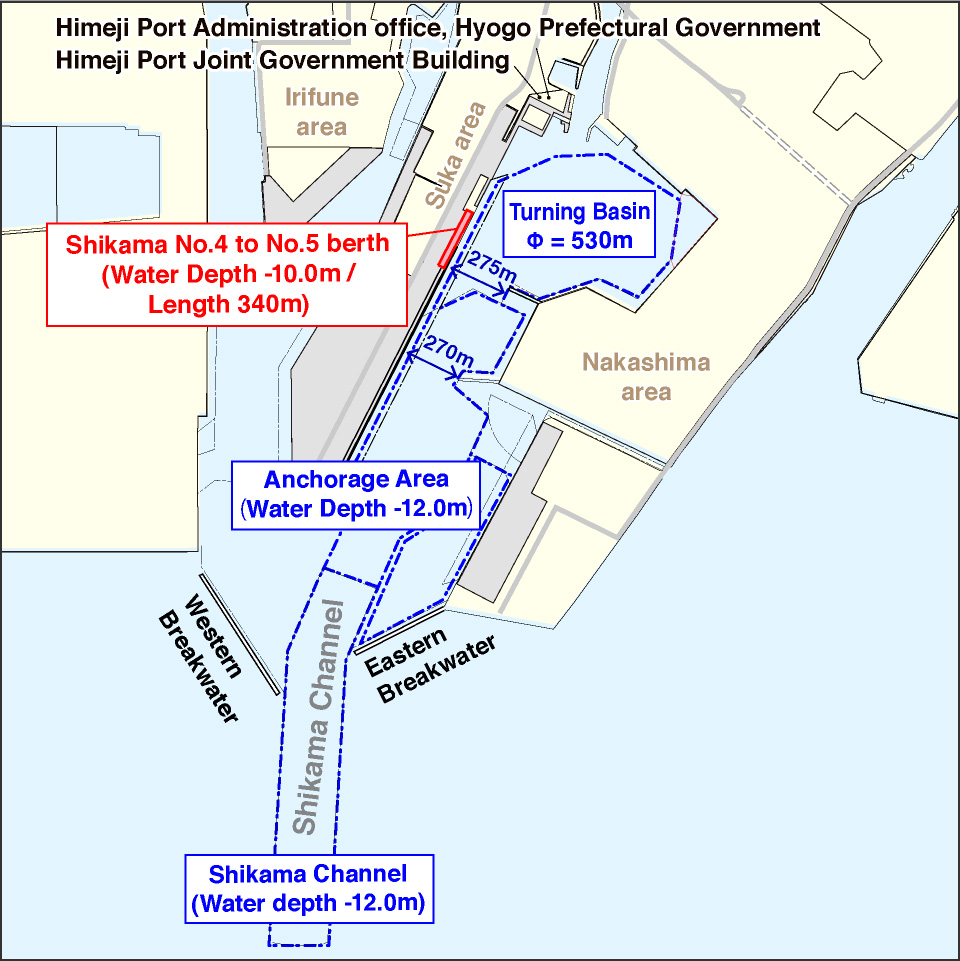 Open Pier information for large cruise ships data(PDF)
Mooring berth
Berth
Length[m]
Water depth[m]
Bollard
Fender bar
Strength
Interval[m]
Size[mm]
Interval[m]
Shikama No.4 berth
170.0
-10.0
700kN
25.0
V-600H×2400L
15.0
Shikama No.5 berth
170.0
-10.0
700kN
28.5
V-600H×2400L〜2500L
15.0
*Sikama No.4 to No.5 berth are connected. (Total length 340m)
*When a long length vessel moors, bollards of Sikama No.3 berth are used. No.3 berth connects No.4 berth.
Coverage water area
| Segment | Width[m] | Water depth[m] | Area[ha] |
| --- | --- | --- | --- |
| Channel(-12) | 250.0 | -12.0 | - |
| Anchorage Area(-12)* | 270.0 | -12.0 | 82.8 |
| Anchorage Area(-10)* | 275.0 | -10.0 | 66.9 |
*Anchorage Area(-12),54.0+28.8=82.8ha.